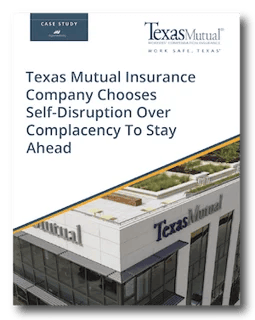 "We had happy customers and good software with traditional development. It helped us have a competitive edge in the insurance market, but we can only take it so far. We had squeezed all the improvements and productivity increases that we could get out of what we used to do."
Learn why a current market leader chose to go through the pain of transformation despite the many risks involved.
This story will help you understand….
The decisions fueling the transformation, from a COO's perspective
The transformation from the perspective of middle management
How one team improved delivery cadence from 9 months to 2 weeks
The squeamish side of Agile transformations
Texas Mutual Insurance Company
Austin-based Texas Mutual Insurance Company is the state's leading provider of workers' compensation insurance. Texas Mutual provides coverage to 43 percent of the insured market, representing 70,000 companies, many of which are small businesses.
The Challenge: Help Texas Mutual plan and execute Agile transformations at scale in order to improve...
Customer service
Collaboration
Delivery Cadence
Innovation
Our Approach: Leverage holistic transformation methodology and framework, specifically the Path to Agility®, and training and coaching at the executive, management, and team levels.
Results: In addition to faster value delivery, an improved and more-transparent culture. Download the story to learn more results.