How to get Leadership On Board with an Agile Transformation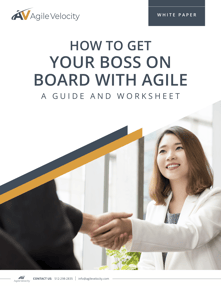 Convincing peers or leadership that Agile is the right investment for your company can be daunting. How do you create an Agile business case with all the right components--from ROI of Agile to evaluating the current state.
Luckily, you don't have to do it alone. We developed a 7-step method that will help persuade even the biggest Agile skeptic.
This Agile business case template will help you:
Identify and understand what a decision-maker values
Evaluate the organization's current state
See proposed solutions through the eyes of a decision-maker
Explore Agile implementation options
Conduct Agile ROI research
Propose your recommendation
Present your findings
You're championing the transformation. Now, use this guide to help others understand why going Agile is the right thing to do.
Our guide ensures you evaluate all your options, understand your company's unique needs, and know how to appeal to different leaders of your company, from the CFO to CTO.