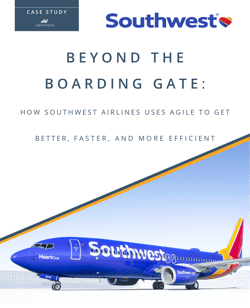 Beyond what passengers experience at the airport, Southwest Airlines is working hard to improve and transform their internal Information Technology (IT) processes and practices in order to deliver on their mission.
Learn why Southwest leaders chose Agile Velocity to help them through their Agile transformation and why this transformation was different than previous attempts.
This Agile transformation success story will help you understand….
The savings that resulted from the transformation
The transformation from the perspective of Southwest leaders
How the SAFe® and The Path to Agility® frameworks worked together to deliver measurable business outcomes
The Challenge: Help Southwest Airlines to become better, faster, more efficient and meet the needs of the broader Southwest team and customers so that….
To connect People to what's important in their lives through friendly, reliable, and low-cost air travel.
Our Approach: Partner with leaders to create a holistic transformation strategy using Agile Velocity's Path to Agility® and then use the experience of Agile Velocity coaches to gather a baseline, conduct training, and coach at the executive, systems, and team levels.